Ukrainian President Volodymyr Zelensky said that retaking Severodonetsk will come at a great cost of equipment and troops should the eastern Ukrainian city fall to Russian forces.
Zelensky on Monday made the remarks to reporters as Russian forces appear poised to capture the city amid heavy fighting, reports Ukrainian Pravda. The admission comes as Russian forces have made advances in Ukraine's eastern Luhansk region after being beaten back during an earlier phase of the conflict.
Russian President Vladimir Putin is seeking to take control of Luhansk, as well as the Donetsk region to the southwest, where Kremlin-backed separatists have declared breakaway republics along Ukraine's eastern border. Additionally, there are indications redeployed Russian troops are making gains in Ukraine's eastern Donbas region.
The General Staff of the Armed Forces of Ukraine said in a Facebook post earlier Monday that Ukrainian troops maintain control over Severodonetsk.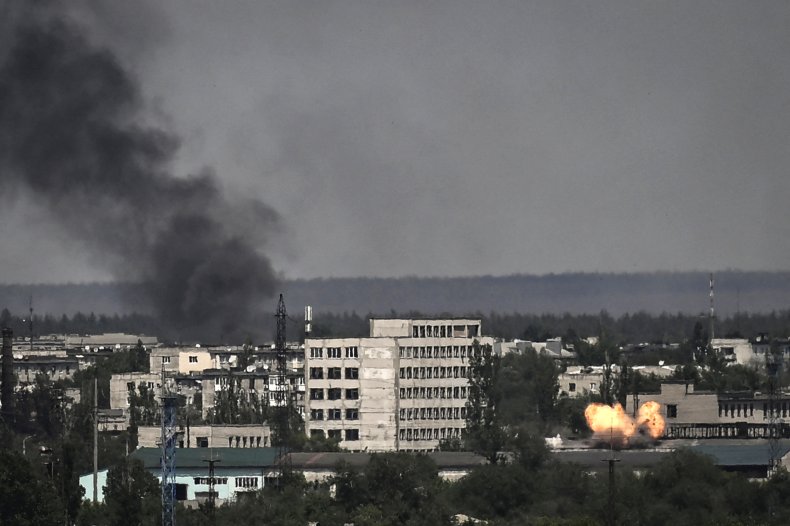 Serhiy Haidai, head of the Luhansk military administration, said Monday on Telegram that the "situation in Severodonetsk has deteriorated somewhat." He said Ukrainian forces are holding positions in its industrial zone after recapturing half the city.
When asked if Ukrainian forces should withdraw from Severodonetsk, Zelensky told reporters that a counter-attack to retake the city would take five times more equipment and troops.
"If you go to the better positions, it will be very costly for you to return, in terms of the number of killed people, the number of losses," Zelensky said, to Ukrainian Pravda. "If we decide to attack later, we will lose much more."
Zelensky said Ukrainian forces are holding Severodonetsk, and that both approaches held their own risks. Decisions will be made based on future developments, he said.
Russian forces are "achieving tactical success" in Donbas, and could seize full control of Luhansk later this month, the UK Ministry of Defense concluded in an assessment of the conflict now last week.
Oleksiy Danilov, Ukraine's secretary of the national security and defense council, said in an earlier interview with Financial Times that the country is in a "very difficult" fight against Russia in the Donbas region, suggesting that strategically ceding territory could help win the war.
"The temporary loss of territories is not a tragedy," he said, according to Financial Times. "The tragedy will be the loss of the country."
Haidai said in his Telegram post that shelling in Severodonetsk and nearby Lysychansk have increased tenfold. He said that other cities in the Luhansk region are facing a situation similar to Mariupol, a port city to the south that saw intense fighting and that Russia now says is under its control.
"Now the Russians are leveling Severodonetsk and Lysychansk," Haidai said.
Kremlin spokesperson Dmitry Peskov said on Friday that Russia was achieving its goal of protecting people in the breakaway republics in Donetsk and Luhansk.
"Measures have been taken to ensure their protection," he said, according to Reuters.
newsweek reached out to the Russian government for comment.