A video that purportedly shows a Ukrainian prisoner of war being mutilated by a Russian soldier has caused outrage.
The clip, posted on a pro-Russian account on Telegram, shows a man in a Ukrainian uniform with his hands behind his back pinned down, while a man in a Russian uniform and a black hat tied uses what look like bolt cutters to apparently castrate him.
Newsweek has not independently verified the footage but The Times of London's assistant foreign editor, Maxim Tucker, has tweeted that the video is "genuine"According to the investigative website Bellingcat.
newsweek has contacted Bellingcat and the Russian defense ministry for comment.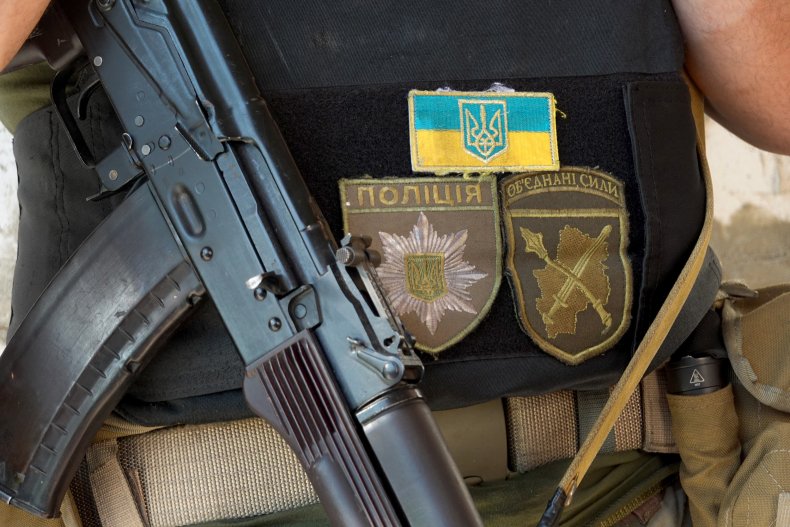 Tucker posted that Bellingcat said "the same soldier appeared on a Russian TV clip (with same hat and bracelet) and there was no evidence the video had been manipulated."
However, there are varying reports about who the Russian soldier is, as well as where and when the alleged incident took place.
The Twitter account Ukraine Alert, which tweets updates about the war, identified the soldier as "probably" a member of the Wagner group of mercenaries fighting alongside Moscow's forces in Ukraine, who is from the republic of Kalmykia.
Yahoo! News reported that the Russian appeared to be the same soldier who appeared in a June broadcast on Russian state-backed media at the Azot chemical plant in the city of Severodonetsk, Luhansk.
The Twitter account Geolotics located the video to Severodonetsk, which suggests the footage could be several weeks old since fighting has largely subsided in the city since Russia captured it on June 25.
Ukraine Alert pointed out that other sources had said the video was of mercenaries from the Chechen Akhmat battalion.
It is unclear what happened to the Ukrainian in the video, but the footage has prompted outrage since it began to circulate online.
"I better see as much outrage about a video of a Ukrainian prisoner-of-war being castrated by Russian terrorists as I have seen about an innocent Vogue photo of Zelensky and his wife," tweeted Julia Krill, a Ukrainian in Canada.
"Ukraine has already won but will avenge this act," tweeted journalist Sarah Ashton-Cirillo.
The Twitter account Anonymous Operations told its 317,000 followers: "This is another brutal war crime of Russian army."
Retired Australian General Mick Ryan tweeted that while he did not want to amplify a "hideous and repulsive act against a defenseless Ukrainian prisoner of war … from a purely human level, I am sickened that one human will do this to another.
"Second, as a soldier, it breaks my heart to see a fellow soldier – now a non-combatant – being treated in such a way. No soldier deserves such disgusting treatment," he added.
Earlier this month, the Organization for Security and Co-operation in Europe issued a report that detailed evidence that Russian forces in Ukraine have committed war crimes. The allegations include the direct targeting of civilians, torture, rape and forced deportations.
The regional security organization said there was "credible evidence" of what were "likely to amount to crimes against humanity."