Mark MacGann, a career lobbyist who led Uber's efforts to win over governments across Europe, the Middle East and Africa, has come forward to identify himself as the source who leaked more than 124,000 company files to the Guardian.
MacGann decided to speak out, he says, because he believes Uber knowingly flouted laws in dozens of countries and misled people about the benefits to drivers of the company's gig-economy model.
The 52-year-old acknowledges he was part of Uber's top team at the time – and is not without blame for the conduct he describes. In an exclusive interview with the Guardian, he said he was partly motivated by remorse.
"I am partly responsible," he said. "I was the one talking to governments, I was the one pushing this with the media, I was the one telling people that they should change the rules because drivers were going to benefit and people were going to get so much economic opportunity.
"When that turned out not to be the case – we had actually sold people a lie – how can you have a clear conscience if you don't stand up and own your contribution to how people are being treated today?"
The senior role MacGann held at Uber between 2014 and 2016 put him at the heart of decisions taken at the highest levels of the company during the period in which it was forcing its way into markets in violation of taxi-licensing laws. He oversaw Uber's attempts to persuade governments to change taxi regulations and create a more favourable business environment in more than 40 countries.
He said the ease with which Uber penetrated the highest echelons of power in countries such as the UK, France and Russia was "intoxicating" but also "deeply unfair" and "anti-democratic".
In his wide-ranging interview, MacGann detailed the personal journey that led him to leak the data years after leaving Uber.
"I regret being part of a group of people which massaged the facts to earn the trust of drivers, of consumers and of political elites," he said. "I should have shown more common sense and pushed harder to stop the craziness. It is my duty to [now] speak up and help governments and parliamentarians right some fundamental wrongs. Morally, I had no choice in the matter."
The Guardian led a global investigation into the leaked Uber files, sharing the data with media organisations around the world via the International Consortium of Investigative Journalists (ICIJ).
Responding to the investigation, Uber acknowledged past failings but insisted the company had transformed since 2017 under the leadership of its new chief executive, Dara Khosrowshahi. "We have not and will not make excuses for past behaviour that is clearly not in line with our present values," a spokesperson said.
The Uber files consists of confidential company data that MacGann had access to at Uber. It includes company presentations, briefing notes, security reports and tens of thousands of emails and WhatsApp, iMessage and chat exchanges between the company's most senior staff at the time.
They include Travis Kalanick, Uber's combative co-founder and then chief executive, David Plouffe, a former Barack Obama campaign aide who became a senior vice-president at Uber, and Rachel Whetstone, a British PR executive who has also held senior roles at Google, Facebook and now Netflix.
When MacGann departed Uber in 2016, Whetstone described him as "a wonderful leader". Plouffe called him a "talented public policy professional" and "terrific advocate for Uber".
The one-time cheerleader-in-chief for Uber in Europe, MacGann now looks set to become one of its sharpest critics.
His profile as a senior executive and political insider make him an unusual whistleblower. So, too, does the fact he actively participated in some of the wrongdoing he is seeking to expose – and the fact it took him more than five years after leaving the company to speak out.
The process through which he came to re-evaluate what he witnessed at Uber was a gradual one, he says. "When I decided I had an obligation to speak up, I then went about finding the most effective, impactful way in which to do that. Doing what I am doing isn't easy, and I hesitated. That said, there's no statute of limitations on doing the right thing."
MacGann is understood to have recently reached an out-of-court settlement with Uber after a legal dispute relating to his remuneration. He said he was prohibited from discussing his legal dispute but acknowledged he had had personal grievances with the company, which he alleges undervalued his role as an interlocutor with government and failed in its duty of care to him.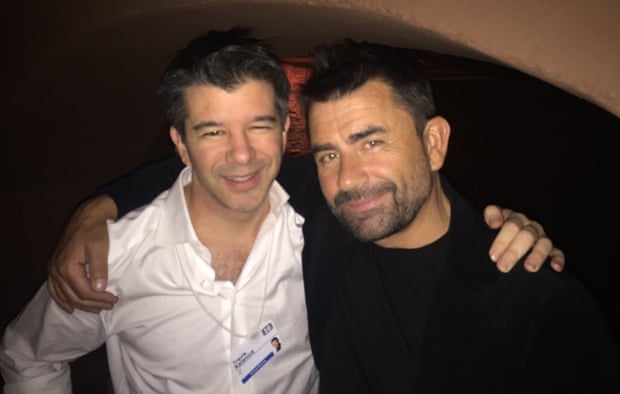 He accuses Uber under Kalanick's leadership of adopting a confrontational strategy with opponents in taxi industries, that left him personally exposed. As a public face of Uber in Europe, MacGann bore the brunt of what became a fierce backlash against the company in countries including France, Belgium, Italy and Spain.
Amid threats to his life, he was given bodyguard protection. His experience of working at Uber, he says, took a mental toll and contributed to a subsequent diagnosis of post-traumatic stress disorder (PTSD).
Brazenly breaking the law
A Brussels insider, MacGann was an obvious pick to lead Uber's government relations in the Europe, Middle East and Africa (EMEA) region in 2014. Born in Ireland, he speaks several languages and possessed an impressive contacts book built up over two decades in lobbying and public affairs.
MacGann had worked at established public policy firms such as Weber Shandwick and Brunswick, and had run DigitalEurope, a trade association that advocated for companies such as Apple, Microsoft and Sony. His most recent job had been as senior vice-president at the New York Stock Exchange on a salary of $750,000 a year.
MacGann took a significant salary cut to work at Uber for €160,000. But like all senior executives joining the company back then, the financial reward was in the promise of stock options that could be worth millions if Uber realised its global ambitions.
Uber and its investors were eyeing vast returns if the tech company succeeded in its mission to deregulate markets, monopolise cities, transform transit systems and one day even replace drivers with autonomous vehicles. The plan, MacGann acknowledges, required Uber to flout the law in cities in which regulated taxi markets required hard-to-get licences to drive a cab.
"The company approach in these places was essentially to break the law, show how amazing Uber's service was, and then change the law. My job was to go above the heads of city officials, build relations with the top level of government, and negotiate. It was also to deal with the fallout."
MacGann started work for Uber around the summer of 2014, when he worked on contract for a European lobbying consultancy that Uber had hired to oversee government relations outside the US. In October 2014, Uber brought him in-house and put him in charge of public policy for the EMEA region.
On his first day on staff, MacGann was in an Uber from London City airport when he got his first taste of the startup's laissez-faire approach to privacy. After emailing a senior executive to tell them he was in traffic, MacGann received the reply: "I'm watching you on Heaven – already saw the ETA!"
"Heaven", otherwise known as "God View", was the codeword Uber employees used at the time for a tool that allowed staff to surreptitiously use the app's backend technology to surveil the real-time movements of any user in the world.
"It felt like children playing around with powerful surveillance technology," said MacGann. "Even back then it was dawning on me this was a rogue company."
In its statement, Uber said tools such as God View, which it stopped using in 2017, "should never have been used". A spokesperson for Kalanick said it would be false to suggest he ever "directed illegal or improper conduct".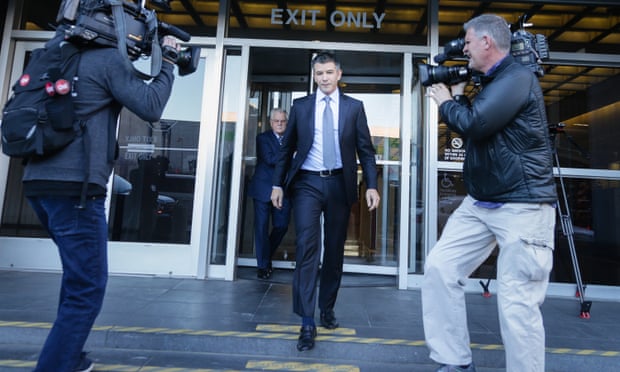 The Uber files contain some instances in which MacGann pushes back at the company's operations and decisions. But, for the most part, the documents show him expressing little dissent over the company's hardball tactics, and on some occasions he appears directly involved in wrongdoing.
He describes himself as having been "drunk on the Kool-Aid" at Uber, a company he alleges did not encourage dissent or criticism. But he does not dispute he was at the heart of many of the controversies that have been revealed by his data leak.
"I believed in the dream we were pushing, and I overdosed on the enthusiasm," he said. "I was working 20 hours a day, seven days a week, constantly on planes, in meetings, on video conference calls. I didn't stop to take a step back."
His whirlwind stint at the company involved meetings with prime ministers, presidents, transport and economy ministers, EU commissioners, mayors and city regulators.
MacGann said most senior politicians were instinctively supportive of Uber, viewing the tech company as offering an innovative new platform that could allow for flexible working and help reboot economies after the financial crisis.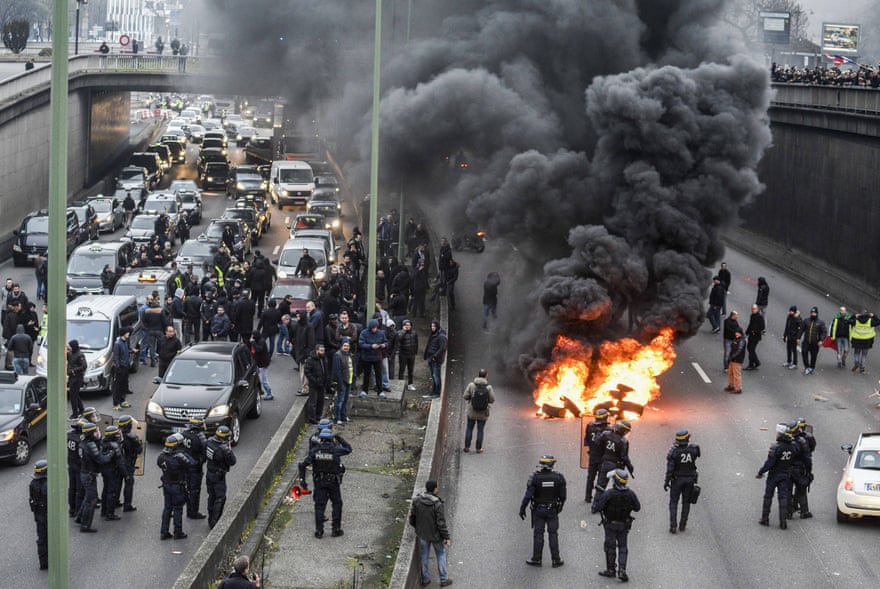 However, it was a more mixed story in France, where Uber's unlicensed service prompted taxi driver riots and divided the cabinet of the then president, François Hollande.
On one side was Bernard Cazeneuve, the minister of the interior, who according to MacGann once summoned him to his office and threatened him with jail, saying: "I will hold you personally and criminally responsible if you do not shut it down by the end of the week."
On the opposing side of the debate was Emmanuel Macron, the pro-tech, pro-business economy minister who, the leak reveals, became something of a secret weapon for Uber.
The data includes text message exchanges between MacGann and Macron, who was working behind the scenes to assist the US tech company. In one exchange, MacGann asks for Macron's help in the midst of a raid on the company's offices. In another he complains about an apparent ban on its services in Marseille.
Macron told MacGann he would "personally" look into the matter. "At this point, let's stay calm," the minister said.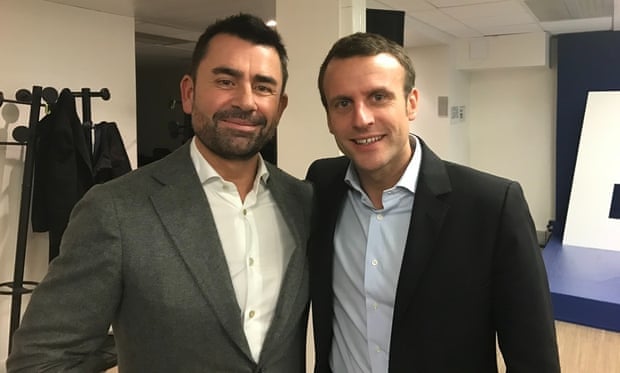 MacGann recalls Macron as being "the only person who gave us the time of day … So he was a massive breath of fresh air."
Macron did not respond to detailed questions about his relationship with Uber. A spokesperson said his ministerial duties at the time "naturally led him to meet and interact with many companies" engaged in the service sector.
After leaving Uber, MacGann maintained relations with Macron and helped raise funds for his La République En Marche party in 2016. He says his political support for the French president was a personal decision and had "absolutely nothing to do with Uber". They continued to exchange text messages with one another up to as recently as April this year.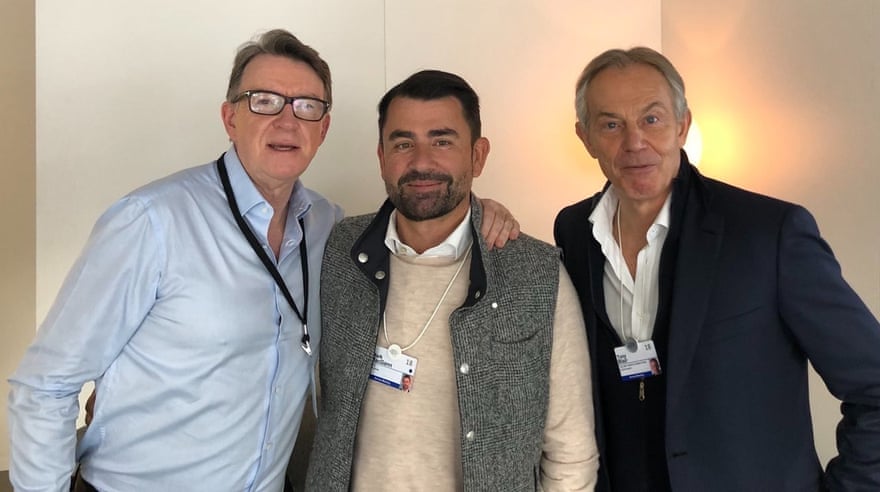 'Speed dating for elites'
The French president is not the only political figure who knows MacGann. He is on first-name terms with two former EU commissioners, Neelie Kroes and Peter Mandelson. After leaving Uber, MacGann maintained a business relationship Lord Mandelson, a former Labour cabinet minister.
MacGann is also a familiar face among VIPs who attend the World Economic Forum in Davos, which he describes as "speed dating for elites". He recalls persuading an initially reluctant Kalanick to attend the gathering in the Swiss Alps in 2016.
"For a lobbyist, Davos is a wonderful competitive advantage that only money can buy," he said. "Politicians don't have a retinue of advisers and civil servants hanging around taking notes."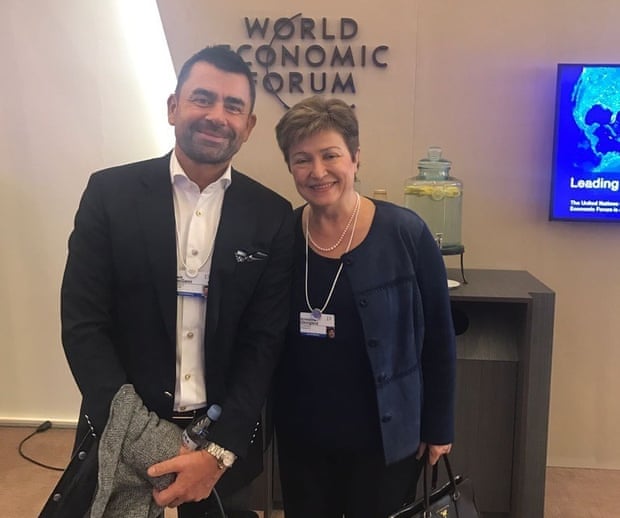 Uber's executives met with the Israeli prime minister, Benjamin Netanyahu, the Irish taoiseach, Enda Kenny, and the UK chancellor, George Osborne. Securing those meetings, MacGann said, was "a piece of cake". "Uber was considered hot property." So much so that when Kalanick met Joe Biden at the Swiss resort it was at the US vice-president's request.
The Uber files reveal that Kalanick fumed when he was kept waiting by Biden, texting other Uber executives: "I've had my people let him know that every minute late he is, is one less minute he will have with me."