Ukraine's counter-offensive in occupied Kherson is wrecking Russia's "thinly held" defenses in the region that was seized by Moscow in the early stages of the war, the UK Ministry of Defense recently said.
The British defense ministry said in an intelligence update Wednesday that Ukrainian armored forces had continued to assault Russian troops on several axes across the south of the country since Monday.
"Ukrainian formations have pushed the front line back some distance in places, exploiting relatively thinly held Russian defences," the ministry said.
Ukraine's counter-offensive to retake the Kherson region from Russian forces intensified this week.
Kyiv said Monday that Ukraine successfully breached the "first line of defense of the Russians on the Kherson front."
Serhiy Khlan, deputy of the Kherson Regional Council, said in a statement on Facebook that it was "the beginning of the end of the occupation of the Kherson region" and "a prepared, well-balanced start of a counteroffensive."
The Russian military meanwhile said it had successfully pushed back an offensive by Ukrainian troops, who suffered "heavy losses."
newsweek was unable to independently verify either claim. The Kherson region has seen heavy fighting this week, according to local media reports and government officials.
Kherson news outlet Most reported Tuesday that intense gunfire was heard on the streets of the area's Pivnichnyi and Tavriiskyi neighborhoods. Ukraine's UNIAN news agency also reported that shots could be heard outside a prison colony in the southern region of Kherson.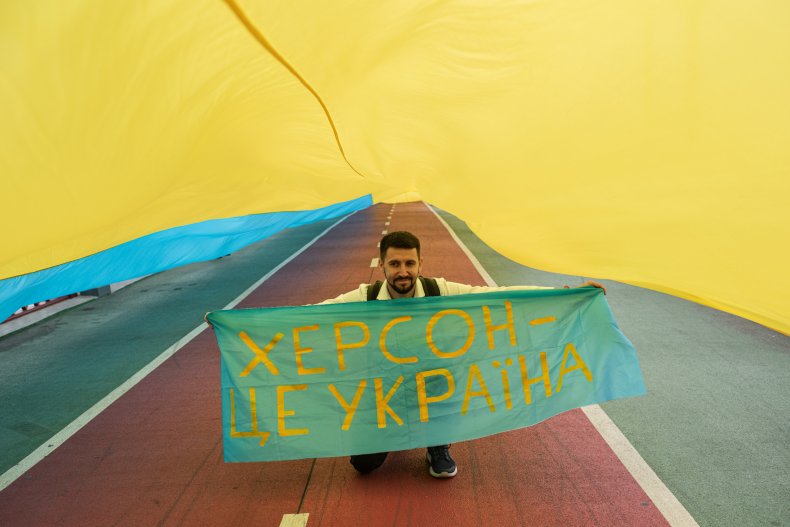 Ukraine's Operational Command South reported Tuesday that "positional battles" continued. It said that key bridges across the region's Dnipro river had been struck to cut off supply routes, and to ensure that they couldn't be used by Russia to transport military equipment and personnel.
In an update on Wednesday, the command said Ukraine afternoon launched attacks on two control points, two ammunition storage sites, air defense systems, radar stations and large amounts of Russian artillery.
Russia's defense ministry said Wednesday that an attempt by Ukraine to resume an offensive in Kherson's Arkhanhelske, Olgino and Ternovy Pod regions were "unsuccessful."
"The enemy suffered significant losses and was driven back by Russian troops," the ministry said.
The British defense ministry said Tuesday that Russian forces are likely to be "under-manned" in Kherson, amid growing attacks by Ukraine on key bridges in the region. Ukraine has been using the Washington-supplied HIMARS weapons to carry out successful strikes.
"Most of the units around Kherson are likely under-manned and are reliant upon fragile supply lines by ferry and pontoon bridges across the Dnipro," it said.
"There is a realistic possibility that Russia has moved to rationalize the several, semi-independent, operational commands which contributed to its poor performance early in the invasion."
newsweek has reached out to Russia's foreign ministry for comment.