Border 32 Fire Details as of 10 pm
location: Near SR-94 and Barrett Lake Road
Size/Containment: 4,243 acres, 5% contained
Evacuation Orders: Barrett Lake Road, Coyote Holler Road, Round Potrero Road
Evacuation Points: Mountain Empire High School, 3305 Buckman Springs Rd. will be open overnight
Road Closures: EB/WB State Route 94 between Forrest Gate Road and Otay Lakes Road; Tecate Port of Entry (usually closes at 10 pm); Barrett School Road between SR-94
School Closures: Mountain Empire Unified School District closed Thursday
THE Smoke Advisory in place in Dulzura
Details from the Sheriff's Department are available in American Sign Language.
A brush fire that sparked Wednesday afternoon in Dulzura in far East San Diego County exploded to more than 4,000 acres and forced evacuations and road closures.
The Border 32 fire started at about 2:30 pm in a remote area near state Route 94 and Barret Lake Road. In its final update of the day at 10 pm, Cal Fire estimated the fire at 4,243 acres and said it was 5% contained.
More than 400 residents were forced to evacuate due to the fire, Cal Fire said. Evacuation orders are in place along Barrett Lake Road, Coyote Holler Road, and Round Potrero Roadaccording to San Diego County.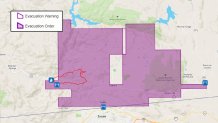 The only temporary evacuation site open as of 10 pm us Mountain Empire High School at 3305 Buckman Springs Rdwhich will stay open for overnight evacuees, according to the county.
Eastbound SR-94 is closed at Otay Lakes Road and westbound lanes are closed at Forrest Gate Road, according to Caltrans. The Tecate Port of Entry was also forced to close at 7 pm (it normally closes at 10 pm), and Barrett School Road is closed, according to the SDSO.
San Diego Gas & Electric says flames damaged parts of the electrical system servicing Dulzura, Camp and Potrero, leaving more than 400 customers without power. Restoration is not expected until 6 pm Thursday.
Two civilians reported burn injuries and four structures have been destroyed, according to Cal Fire. The agency said more than 200 firefighters are fighting the fire, including crews from the San Diego Fire-Rescue Department and Cleveland National Forest firefighters.
The Mountain Empire Unified School District will be closed Thursday due to the fire and the Jamul-Dulzura Union School District has canceled or adjusted several bus routes, according to the San Diego County Office of Education.
Pets can be taken to San Diego County Animal Shelter located at 5821 Sweetwater Road in Bonita. For more information, call County Animal Services at (619) 236-2341.
The Sann Diego County Air Pollution Control District (APCD) issued a smoke advisory in response to the fire, saying air quality could reach unhealthy levels. Winds are blowing west and are expected to stay blowing in that direction, the APCD said.
It was not immediately clear what caused the fire or if there were any injuries.
What to Do to Prepare For a Wildfire Evacuation in California
The best way to prepare for a wildfire is to plan ahead. Tailor this plan to your household's needs and make sure all family members are familiar with its details. Click here to see what your plan should include.
NBC 7's Dana Williams talks with Capt. Thomas Shoots from Cal Fire San Diego about different scenarios when it comes to fire safety, like what to do if you're in your car and a brush fire starts nearby, and what the best thing to do is in each one.
.