Apple will add two MacBook Air models and one MacBook Pro model to its obsolete products list on April 30, according to an internal memo obtained by MacRumors. All three notebooks have already been on Apple's list of "vintage" products since 2020 and will be moved to the "obsolete" list at the end of the month.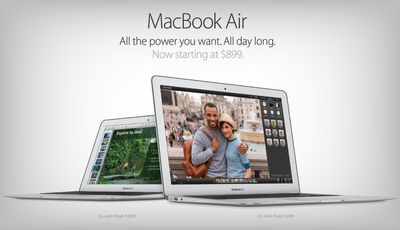 The models set to become obsolete:
MacBook Air (11-inch, Early 2014)
MacBook Air (13-inch, Early 2014)
MacBook Pro (13-inch, Mid 2014)
Apple considers a product obsolete once seven years have passed since the company last distributed the product for sale. Apple discontinues all hardware service for obsolete products, but the MacBook models listed above may remain eligible for battery-only repairs in select countries for a limited time, the memo said.
Apple discontinued the 11-inch MacBook Air following its October 2016 event, where it introduced the first MacBook Pro with a Touch Bar. Apple continues to sell the 13-inch MacBook Air, which was last updated in November 2020 with the M1 chip, and display industry consultant Ross Young said a larger 15-inch MacBook Air is coming in 2023.
(Thanks, @StellaFudge!)
Related Stories
Larger 15-Inch MacBook Air Expected in 2023
Apple is developing a larger 15-inch MacBook Air that could come out in 2023, according to research shared today by Display Supply Chain Consultants in its quarterly report. The full report is limited to those in the display industry who subscribe, but display analyst Ross Young provided a bit of color on what can be expected. Apple is working on a MacBook Air that's somewhere around 15…
Everything the New MacBook Pro Tells Us About the Next-Gen MacBook Air
With Apple's latest high-end MacBook Pro being such a radical departure from the previous model, some users are now looking to the next-generation MacBook Air and what similar changes could be brought over to the company's smallest and lightest laptop. Rumors already abound about the next-generation MacBook Air, providing a number of insights into Apple's plans for the new ultra-portable…
Five Features to Look Forward to in the 2022 MacBook Air
In 2022, Apple is going to release an updated version of the MacBook Air with some of the biggest design changes that we've seen since 2010, when Apple introduced the 11 and 13-inch size options. In the video below, we highlight five features that you need to know about the new machine. Subscribe to the MacRumors YouTube channel for more videos. No More Wedge Design – Current MacBook…
Apple Could Discontinue the 13-Inch MacBook Pro – Here's Why
Following the launch of Apple's long-awaited 14-inch and 16-inch MacBook Pro, there are early signs that the company could discontinue the entry-level 13-inch model, which is starting to look like an outlier in the product lineup. Last updated in November 2020, the 13-inch MacBook Pro is now an anomaly in the Mac lineup, being the only device with the Touch Bar. With no rumors of a 13-inch…
Rumored 15-Inch Mac Notebook Coming in 2023 Might Not Be Called 'MacBook Air'
The rumored 15-inch Mac notebook that Apple is working on might not be called the "MacBook Air," according to information shared today on Twitter by well-known Apple analyst Ming-Chi Kuo. Recent rumors have indicated that Apple is working on a larger-screened version of the MacBook Air that could measure in at around 15 inches and that would be soldered alongside the 13-inch MacBook Air. The…
Popular Stories
Apple Releases iOS 15.4.1 With Fix for Battery Drain Issue
Apple today released iOS 15.4.1 and iPadOS 15.4.1, minor updates to the iOS and iPadOS 15 operating systems that were released in September. iOS 15.4.1 and iPadOS 15.4.1 come two weeks after the launch of iOS 15.4. The iOS 15.4.1 and iPadOS 15.4.1 updates can be downloaded for free and the software is available on all eligible devices over-the-air in the Settings app. To access the new…
Apple Stores Will Now Decline to Repair iPhones Reported as Missing
Apple Stores and Apple Authorized Service Providers will now be alerted if an iPhone has been reported as missing in the GSMA Device Registry when a customer brings in the device to be serviced, according to an internal memo obtained by MacRumors. If an Apple technicians see a message in their internal MobileGenius or GSX systems indicating that the device has been reported as missing, they…
Apple Releases macOS Monterey 12.3.1 With Bluetooth and Display Fixes
Apple today released macOS Monterey 12.3.1, a minor update to the macOS Monterey operating system that launched in October. macOS Monterey 12.3.1 comes two weeks after the launch of macOS Monterey 12.3, an update that brought Universal Control. The ‌‌‌‌‌macOS Monterey‌‌ 12.3‌‌.1 update can be downloaded on all eligible Macs using the Software Update section of System…
Useful Mac Accessories Worth Checking Out
If you recently picked up a new Mac such as the Mac Studio, you may be in search of useful accessories to go along with it. In our latest YouTube video, we have once again rounded up some excellent Mac accessories that we think are worth checking out. Subscribe to the MacRumors YouTube channel for more videos. DockCase SSD Enclosure ($99) – The DockCase SSD Enclosure, as the name…
Google Releases Chrome 100 for iOS and Desktop With Updated Icon
Google today released Chrome 100, the latest version of its browser that's available on Macs, PCs, iPhones and iPads, Android devices, and more. Chrome 100 is notable because it features the first major icon update for Chrome since 2014. The updated design was first previewed in February, and it features a simplified icon with brighter colors and no shadows. Chrome designer Elvin Hu said…
Apple's Craig Federighi Explains Why iOS Auto-Updates Often Arrives Several Weeks Late
When it comes to downloading iOS software updates, Apple users can be reasonably divided into two camps: Those who manually seek out updates the moment Apple releases them, and those who are happy to let their device's Automatic Updates feature take care of everything in the background with minimal input on their part. While it's generally acknowledged that manually tapping into Settings ->…
iFixit Teardown: Studio Display Features iMac-Like Internal Setup
Apple earlier in March released the Studio Display, its first standalone display since the Pro Display XDR. iFixit today disassembled the Studio Display in a video teardown to give us a look at the internals. The inside of the Studio Display may be confusing at first because it has an internal setup that's not too dissimilar from a computer like the Intel iMac, thanks to the inclusion of an…
.